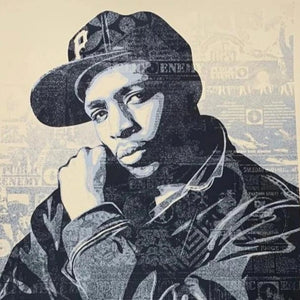 Title: "Chuck D Black"
Medium: Silk steel print, artist proof. Signed by Janette Beckman, Shepard Fairy, and Chuck D
Dimensions: Framed, H28 x W26 in
Benefitting: Indixia Global Love Benefit, supporting the International Institute of Art Scholarships & Afghan Hands
Estimated Value: $250
Artist: Janette Beckman is a British-born photographer who now lives and works in New York. She began her career at the dawn of punk rock working for music magazines The Face and Melody Maker. She shot bands from The Clash to Boy George as well as three Police album covers.

Moving to NYC in 1983 she was drawn to the underground hip-hop scene and photographed pioneers such as Run DMC, Slick Rick, Salt'n'Pepa, Grand Master Flash and LL Cool J.
Her work has been shown in galleries worldwide and is in the permanent collections of the Smithsonian National Museum of African American History and Culture, the Museum of the City of New York and the Musée des Civilisations de l'Europe. Beckman continues to chronicle sub-cultures of our generation as well as working on shoots for clients such as Levis, Dior, and Apple.