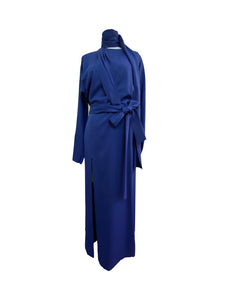 100% of the proceeds rom the sale of this item goes to INDIXIA in support of Arts For India.
Details: Burnett Bright Blue Long Sleeve Crepe Dress
Burnett New York will donate a special design creation. The donation for our Global Love mission will be available for purchase at our charity auction on February 13th, 2020.
Size: 4
Retail Value: $2,250
Designer: Co-founded by women, Burnett New York's mission is to empower, inspire, and positively impact all women.
Emily and Sterling met in 2016 when Emily began to design Sterling's custom Dennis Basso wedding gown. Sterling was so impressed with Emily's designs and craftsmanship that she asked why she had not yet launched her own brand. The idea of Burnett New York was born and the two women began to build the business.
Emily Burnett is the Co-Founder, Co-CEO and Creative Director for Burnett New York. Burnett co-founded the eponymous luxury line after having gained international renown and industry recognition during her 10-year tenure at New York's premier luxury design house, Dennis Basso. As Creative Director for Dennis Basso, Burnett's signature aesthetic helped the house cement its reputation for feminine sensibility and detailed craftsmanship across evening wear, evening-inspired sportswear, and bridal. Prior to Dennis Basso, Emily was on the design team at Ralph Lauren.
Sterling McDavid is the Co-Founder, Co-CEO, and President of Burnett New York, where she is responsible for sales, marketing, and finance. McDavid is also the Founder and CEO of the Starling Project, a social impact luxury home fragrance line. Prior to launching The Starling Project, Sterling was an analyst at Goldman Sachs.
Benefitting: INDIXIA Global Love Benefit, supporting the International Institute of Art Scholarships & Afghan Hands.
Terms & Conditions
All charity benefit piece shipping costs are the sole responsibility of purchaser. Shipping will be coordinated with charity organizers, for shipping queries please contact us.
Charity benefit piece sales are final.