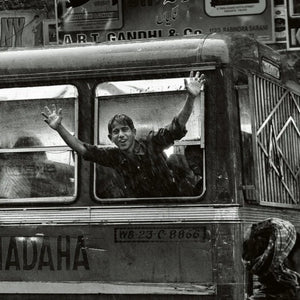 100% of the proceeds rom the sale of this item goes to INDIXIA in support of Arts For India.

Title: "Exhilaration", 2015
Medium: C lambda print on paper, mounted
Dimensions: 20 x 36 inches
Estimated Value: $6,000
Artist: Shalini Nopany (b. New Delhi) is a photographer known for both black and white and color images of people and places. Her work has been exhibited in galleries in Paris, London, Hong Kong, and Miami. Shalini Nopali notable exhibits include Manolis Projects, Group Show, 2016 and 2017 in Art Basel Miami, and the Exhibition of Modern and Contemporary South Asian Art, 2016 Bonhams, London.
She holds a Bachelor's Degree in commerce from Lady Siri Ram College, New Delhi and a Master's Degree in business from the University of Pittsburgh, USA. Despite her many business pursuits and charities, and the raising of two children, Nopany has increasingly devoted herself to her career as a photographer.
Benefitting: Indixia Global Love Benefit, supporting the International Institute of Art Scholarships & Afghan Hands.
Terms & Conditions
All charity benefit piece shipping costs are the sole responsibility of purchaser. Shipping will be coordinated with charity organizers, for shipping queries please contact us.
Charity benefit piece sales are final.