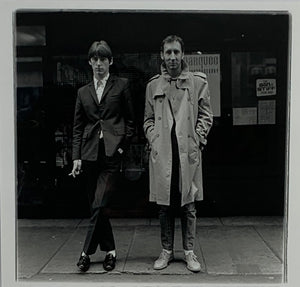 LOT 4
Title,Year: Paul Weller & Pete Townshend, London 1980, 2015
Medium: Silver gelatin print
Dimensions: 11 x 10 inches
[UN]DOCUMENTED Auction
Auction estimate: $1200
Courtesy of Artist
Artist: British-born photographer Janette Beckman began her career at the dawn of punk rock working for publications such as The Face and Melody Maker.  She shot bands from The Clash to Boy George as well as three Police album covers and documented the youth culture of the era.  Moving to NYC in 1983, Beckman was drawn to the underground hip-hop scene where she photographed the pioneers of the culture such as Run-DMC, Slick Rick, Salt-N-Pepa, Grandmaster Flash, LL Cool J, and Big Daddy Kane. Beckman has published numerous books, including:  Rap, Portraits & Lyrics of a Generation of Black Rockers, Made In The UK The Music of Attitude 1977-1983,  and The Breaks, Stylin' and Profilin' 1982- 1990.
Her work has been shown in galleries and museums worldwide including the Museum of Fine Arts, Houston, The Annenberg Space for Photography, Los Angeles and Kunsthal Rotterdam, amongst others.  Her work is in the permanent collections of the Smithsonian Museum, the Museum of the City of New York, the Musée des Civilisations de l'Europe, France, and the Nakamura Keith Haring Collection, Japan.  Beckman lives and works in downtown Manhattan.
Benefitting: [UN]DOCUMENTED is an art auction fundraiser to support some of New York City's most vulnerable people: The estimated 200,000 undocumented residents who have lost their jobs due to Covid-19.  Proceeds from this auction will benefit the New York State Leadership Council's Covid-19 Emergency Relief Fund, which distributes funds directly to impacted individuals and families. Please help support their mission by placing a bid today.
Lot Terms
All art shipping costs are the sole responsibility of winning bidders.

Shipping will be coordinated 

between the winning bidder and

 Undocumented charity organizers, for 

shipping queries please contact: ProjectMcSweeney@gmail.com
Please note that in most cases, the framing of works in this auction is for display purposes only. Auction winners are strongly encouraged to professionally frame all works purchased.