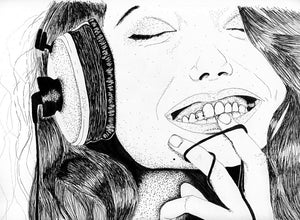 LOT 18
Title,Year: Interlude at Lunch, 2020
Medium: Illustration, print
Dimensions: 24 x 18 inches
[UN]DOCUMENTED Auction
Auction estimate: $1000
Courtesy of Artist
Artist: Gabriella Rovera grew up in the greater Philadelphia area and began realizing her passion for the arts as a young child. Ms. Rovera completed her higher education in Washington D.C. in 2005 at American University earning a degree in graphic design and mass communications. During her time in D.C., she became a member of a local activist group fighting against hunger and homelessness in the D.C. area. Ms. Rovera has lived in Brooklyn since 2005 working as a graphic designer, being a strong advocate and occasional performer in the local DIY music scene, and teaching yoga and meditation around the city. Ms. Rovera hopes to bring more awareness to both societal and environmental issues through her art.
Benefitting: [UN]DOCUMENTED is an art auction fundraiser to support some of New York City's most vulnerable people: The estimated 200,000 undocumented residents who have lost their jobs due to Covid-19.  Proceeds from this auction will benefit the New York State Leadership Council's Covid-19 Emergency Relief Fund, which distributes funds directly to impacted individuals and families. Please help support their mission by placing a bid today.
Lot Terms
All art shipping costs are the sole responsibility of winning bidders.

Shipping will be coordinated 

between the winning bidder and

 Undocumented charity organizers, for 

shipping queries please contact: ProjectMcSweeney@gmail.com
Please note that in most cases, the framing of works in this auction is for display purposes only. Auction winners are strongly encouraged to professionally frame all works purchased.