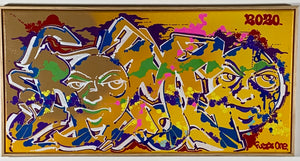 LOT 10
Title,Year: ROMEO, 2020
Medium: Acrylic on canvas
Dimensions: 9.875 x 20 inches
[UN]DOCUMENTED Auction
Auction estimate: $1000
Courtesy of Artist
Artist: FUZZ ONE, a.k.a Vincent Fedorchak, is one of the most prolific and important graffiti artists from the early 70s generation of seminal New York stylewriters.  He painted with many legends, including DONDI, BLADE, COMET, and NOC 167.  While a master of throwback, nostalgic pieces, FUZZ went on to seamlessly integrate his work with the increasingly complicated letterforms that were emerging in the late 1970s and continuing into the 1980s. In 2005, Fedorchak's staggering and critically acclaimed autobiography A Bronx Childhood was published by Testify Books. FUZZ ONE continues to produce a limited number of canvases and marker drawings each year, which he completes at his studio in upstate New York.
Benefitting: [UN]DOCUMENTED is an art auction fundraiser to support some of New York City's most vulnerable people: The estimated 200,000 undocumented residents who have lost their jobs due to Covid-19.  Proceeds from this auction will benefit the New York State Leadership Council's Covid-19 Emergency Relief Fund, which distributes funds directly to impacted individuals and families. Please help support their mission by placing a bid today.
Lot Terms
All art shipping costs are the sole responsibility of winning bidders.

Shipping will be coordinated 

between the winning bidder and

 Undocumented charity organizers, for 

shipping queries please contact: ProjectMcSweeney@gmail.com
Please note that in most cases, the framing of works in this auction is for display purposes only. Auction winners are strongly encouraged to professionally frame all works purchased.