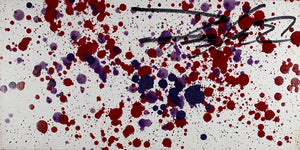 LOT 9
Title,Year: Untitled, 2014
Medium: Aerosol and marker on canvas
Dimensions: 9.75 x 20 inches
[UN]DOCUMENTED Auction
Auction estimate: $10,000
Courtesy of FUTURA LABORATORIES LLC
Artist: Futura 2000 is a contemporary American artist who transitioned from making subway graffiti in New York's early 1970s to exhibiting at Fun Gallery in the 1980s alongside major artists such as Keith Haring, Rammellzee, Kenny Scharf, and Jean-Michel Basquiat. His original, abstract style on NYC's trains laid the aesthetic foundation for the works on canvas and sculptures that were to follow. Today examples of Futura's seminal work can be found in the collections of the Museo de Arte Moderna di Bologna, the Musée de Vire in France, and the Museum of the City of New York, among other art institutions. He has exhibited his work in galleries and museums worldwide, most recently at the show currently running until December 23, entitled Futura 2020 at the Eric Firestone Gallery in New York City. 
Benefitting: [UN]DOCUMENTED is an art auction fundraiser to support some of New York City's most vulnerable people: The estimated 200,000 undocumented residents who have lost their jobs due to Covid-19.  Proceeds from this auction will benefit the New York State Leadership Council's Covid-19 Emergency Relief Fund, which distributes funds directly to impacted individuals and families. Please help support their mission by placing a bid today.
Lot Terms
All art shipping costs are the sole responsibility of winning bidders.

Shipping will be coordinated 

between the winning bidder and

 Undocumented charity organizers, for 

shipping queries please contact: ProjectMcSweeney@gmail.com 
Please note that in most cases, the framing of works in this auction is for display purposes only. Auction winners are strongly encouraged to professionally frame all works purchased.