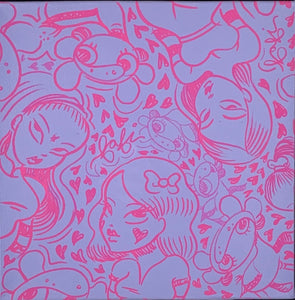 LOT 7
Title,Year: Fafi's Pizza Box #13, 2020

Medium: Acrylic on 3D canvas, wooden framed
Dimensions: 11.8 x 11.8 inches
[UN]DOCUMENTED Auction
Auction estimate: $1200
Courtesy of Artist
Artist: Fafi is a French street artist, recognized for her unique graffiti style depicting sexy, funny, voluptuous girl characters in a made up world.Originally from Toulouse, Fafi was born in 1976. And deliberately cultivates an air of mystery - 'I never say my real name, I'm just Fafi'. By exploring femininity through stereotypes and using them to her advantage, Fafi locked toy manufacturing deals with Sony and Medicom, and generated press and illustrations for Commons & Sense, Vogue, Elle, and The Face. She has also collaborated with Hennessy, Swatch, Samsung and Le SportSac. She has exhibited her work at the legendary and now defunct Parisian fashion boutique Colette, and her artwork has graced products from Adidas, Coca-Cola and Mac cosmetics. She has travelled the world sharing her art and you can find it anywhere from the U.S. to Tokyo. Fafi currently lives in Paris and travels the world to work on her collaborations.
Benefitting: [UN]DOCUMENTED is an art auction fundraiser to support some of New York City's most vulnerable people: The estimated 200,000 undocumented residents who have lost their jobs due to Covid-19.  Proceeds from this auction will benefit the New York State Leadership Council's Covid-19 Emergency Relief Fund, which distributes funds directly to impacted individuals and families. Please help support their mission by placing a bid today.
Lot Terms
All art shipping costs are the sole responsibility of winning bidders.

Shipping will be coordinated 

between the winning bidder and

 Undocumented charity organizers, for 

shipping queries please contact: ProjectMcSweeney@gmail.com
Please note that in most cases, the framing of works in this auction is for display purposes only. Auction winners are strongly encouraged to professionally frame all works purchased.