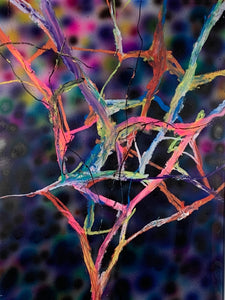 LOT 8
Title,Year: Sensory cortex vortex, 2020
Medium: Paint marker and water based paint on paper
Dimensions: 18 x 24 inches
[UN]DOCUMENTED Auction
Auction estimate: $3500
Courtesy of Artist
Artist: Born in Illinois in 1973, Erik Foss is a visual artist whose work has been exhibited in galleries in New York, Los Angeles, and elsewhere.  Paper magazine's Art critic Carlo McCormick said of Foss: "He's an intrepid scavenger of visual artifacts in which memory, melancholia and madness invoke a visionary topography. Erik Foss locates the fearful symmetries lurking within the miasma of pop culture at the nexus where representation and witness converge." Foss's work was recently exhibited at the No. 53 Gallery in East Hampton. He lives and works on the Lower East Side of Manhattan.
Benefitting: [UN]DOCUMENTED is an art auction fundraiser to support some of New York City's most vulnerable people: The estimated 200,000 undocumented residents who have lost their jobs due to Covid-19.  Proceeds from this auction will benefit the New York State Leadership Council's Covid-19 Emergency Relief Fund, which distributes funds directly to impacted individuals and families. Please help support their mission by placing a bid today.
Lot Terms
All art shipping costs are the sole responsibility of winning bidders.

Shipping will be coordinated 

between the winning bidder and

 Undocumented charity organizers, for 

shipping queries please contact: ProjectMcSweeney@gmail.com
Please note that in most cases, the framing of works in this auction is for display purposes only. Auction winners are strongly encouraged to professionally frame all works purchased.