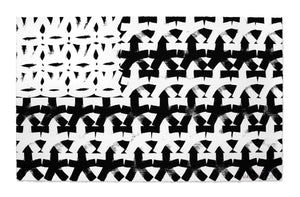 LOT 12
Title,Year: Flag 2019 Reverse, 2019
Medium: Silkscreen on 335 gsm rag
Dimensions: 30 x 18.25 inches
EDITION:  Artist proof from an edition of 20
[UN]DOCUMENTED Auction
Auction estimate: $1000
Courtesy of Artist
Artist: Born and bred in New York City, Eric Haze has contributed to the worlds of graffiti, contemporary art and graphic design for over four decades. As a founding member of the influential New York City collective The Soul Artists, Haze first exhibited work in 1974, going on to show his paintings and drawings alongside close friends such as Keith Haring and Jean Michael Basquiat in the early 1980s.
After shifting his focus from galleries to the graphic arts in the mid 80s, Haze emerged as the premier graphic designer of the exploding hip-hop movement, creating iconic logos and album covers as art director for some of the most influential and historical names in the genre. The new millennium has seen HAZE recommit himself to painting, with solo exhibitions in New York, Los Angeles, Hong Kong, Tokyo and Paris. Haze's work can also be found in public installations around the world, including works commissioned by Nike, Levis, and Casio.  HAZE currently lives and works in Brooklyn, NY.
Benefitting: [UN]DOCUMENTED is an art auction fundraiser to support some of New York City's most vulnerable people: The estimated 200,000 undocumented residents who have lost their jobs due to Covid-19.  Proceeds from this auction will benefit the New York State Leadership Council's Covid-19 Emergency Relief Fund, which distributes funds directly to impacted individuals and families. Please help support their mission by placing a bid today.
Lot Terms
All art shipping costs are the sole responsibility of winning bidders.

Shipping will be coordinated 

between the winning bidder and

 Undocumented charity organizers, for 

shipping queries please contact: ProjectMcSweeney@gmail.com
Please note that in most cases, the framing of works in this auction is for display purposes only. Auction winners are strongly encouraged to professionally frame all works purchased.