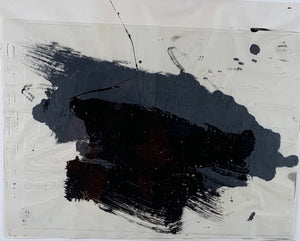 LOT 2
Title, Year: Shadow, 1984
Medium: Acetate paint on paper
Dimensions: 24.5 x 19 inches
[UN]DOCUMENTED Auction
Auction estimate: $3000
Courtesy of Artist
Artist: Born in Belo Horizonte, Brazil in 1952, Do Amaral moved to Frankfurt, Germany in 1973 for a photo design apprenticeship at Castle of Ziegenberg. He attended the Hochschule fur Gestaltung in Offanbach am/Main and studied fine arts at the Staedelschule fuer Bildende Kunst in Frankfurt. Daniel do Amaral then came to the United States, settling in Boston where he continued his work in photography and painting. He had several shows in Boston before moving to New York City. He next lived in Kamakura, Japan on an Aikido scholarship and he had several shows, exhibiting watercolors, collages and photography from 1989 to 1991. Significant collections of do Amaral's work are held in private collections in Brazil, Paris, Frankfurt, Japan, Boston and several other places in the United States. He continues to live and work in New York City.
Benefitting: [UN]DOCUMENTED is an art auction fundraiser to support some of New York City's most vulnerable people: The estimated 200,000 undocumented residents who have lost their jobs due to Covid-19.  Proceeds from this auction will benefit the New York State Leadership Council's Covid-19 Emergency Relief Fund, which distributes funds directly to impacted individuals and families. Please help support their mission by placing a bid today. 
Lot Terms
All art shipping costs are the sole responsibility of winning bidders.

Shipping will be coordinated 

between the winning bidder and

 Undocumented charity organizers, for 

shipping queries please contact: ProjectMcSweeney@gmail.com
Please note that in most cases, the framing of works in this auction is for display purposes only. Auction winners are strongly encouraged to professionally frame all works purchased.