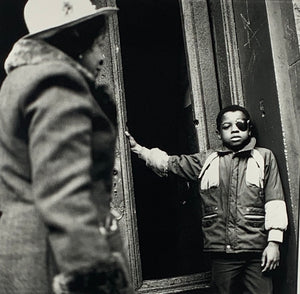 LOT 15
Title,Year: Little Slick Rick, 2009
Medium: Silver gelatin print
Dimensions: 16 x 20 inches
EDITION:  Number 1 from an edition of 10.
Signed on verso
[UN]DOCUMENTED Auction
Auction estimate: $3000
Courtesy of Artist
Artist: Sue Kwon is a critically acclaimed photographer who has been documenting the streets and denizens of New York City since 1983. Early commercial clients include The Village Voice, Interview, and The Source, while record labels like Sony, Def Jam, and Loud have all commissioned her distinctive work.  Her haunting photographs of everyday urban life have been compared to the work of Helen Levitt.  In 2010, Street Level, a collection of her work, was published by Testify Books.  Recent commercial collaborations include MCM, Sergio Tacchini, and Carhartt national campaigns. Kwon lives and works in downtown Manhattan.
Benefitting: [UN]DOCUMENTED is an art auction fundraiser to support some of New York City's most vulnerable people: The estimated 200,000 undocumented residents who have lost their jobs due to Covid-19.  Proceeds from this auction will benefit the New York State Leadership Council's Covid-19 Emergency Relief Fund, which distributes funds directly to impacted individuals and families. Please help support their mission by placing a bid today.
Lot Terms
All art shipping costs are the sole responsibility of winning bidders.

Shipping will be coordinated 

between the winning bidder and

 Undocumented charity organizers, for 

shipping queries please contact: ProjectMcSweeney@gmail.com 
Please note that in most cases, the framing of works in this auction is for display purposes only. Auction winners are strongly encouraged to professionally frame all works purchased.