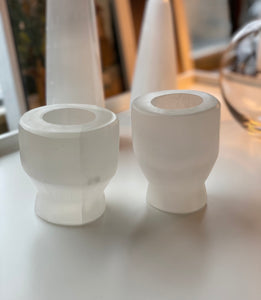 Details:  Handcrafted votive candle holders milky white selenite from the Sahara desert in Morocco. Each piece is unique creating slight variations in size shape and color.
These elegant pieces can be used in a table setting or for spiritual practice. Selenite is believed to open the crown and higher chakras to access higher guidance. It is used for good luck and protection, as well as to still the mind and create harmony within the environment it is placed.  
Size: 3 inches height x 2 inch round base, 2 3/4 inch top. *Size is approximate due to hand crafting. 
Materials: Selenite derived from calcium sulfate formed as crystallized gypsum.
**Selenite will dissolve in water, therefore do not attempt to clean in water.  If you would like to energetically "clean" your selenite, leave it near a window for one lunar cycle, it is said to bring love,harmony, well-being, and clarity to all relationships.
Benefitting: Giving Love Charities
This item is final sale and can not be returned.