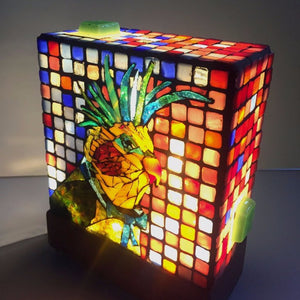 100% of the proceeds rom the sale of this item goes to INDIXIA in support of Arts For India.

Title: "Jacquie's Lamp"
Medium: Glass
Dimensions: H19.5 x W15.5 x D7.5cm
Estimated Value: $3,000
Artist: "I love glass. I also love things old and new, I love contrasts and beautiful forms.  I love to blend times and places. I love people and animals. For over 25 years I have immersed myself in learning and developing techniques and new ways to achieve and form the ideas that I have in mind. 
I bring an eclectic palette to the table. For me, life is about surrounding myself with things that I love to look at and that make me feel good." - Jacquie Hacansson
Benefitting: Indixia Global Love Benefit, supporting the International Institute of Art Scholarships & Afghan Hands