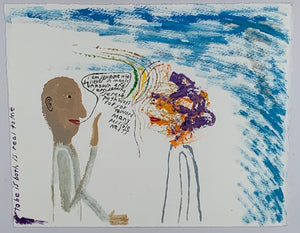 LOT 14
Title,Year: To be is both is real to me, 2020
Medium: Acrylic and house paint on archival paper
Dimensions: 8 x 10 inches
Signed on verso
[UN]DOCUMENTED Auction
Auction estimate: $3000
Courtesy of Mitchell-Innis & Nash gallery
Artist: Chris Johanson is an important American artist of the Bay area's Mission School. Originally from San Jose, California his works express themes of urban/suburban dichotomy, and the underlying connectedness of all things. Johanson has exhibited his vibrant and often humorous art extensively in group and solo shows nationally and internationally, including solo shows at Jack Hanley Gallery and Altman Siegel in San Francisco, Deitch Projects and Mitchell-Innes & Nash in New York, and Galerie Georg Kargl in Vienna. Johanson was included in the 2002 Whitney Biennial, 2005 Istanbul Biennial, and 2006 Berlin Biennial. Johanson splits his time between Los Angeles and Portland
Benefitting: [UN]DOCUMENTED is an art auction fundraiser to support some of New York City's most vulnerable people: The estimated 200,000 undocumented residents who have lost their jobs due to Covid-19.  Proceeds from this auction will benefit the New York State Leadership Council's Covid-19 Emergency Relief Fund, which distributes funds directly to impacted individuals and families. Please help support their mission by placing a bid today.
Lot Terms
All art shipping costs are the sole responsibility of winning bidders.

Shipping will be coordinated 

between the winning bidder and

 Undocumented charity organizers, for 

shipping queries please contact: ProjectMcSweeney@gmail.com
Please note that in most cases, the framing of works in this auction is for display purposes only. Auction winners are strongly encouraged to professionally frame all works purchased.